Web Software Service
With the advancement of technology, the Internet is a large ecosystem that can quickly develop according to needs. This ecosystem needs solutions, updates and above all perfect systems for specific needs in specific areas. Here in response to those needs; It is web software and the underlying code architecture.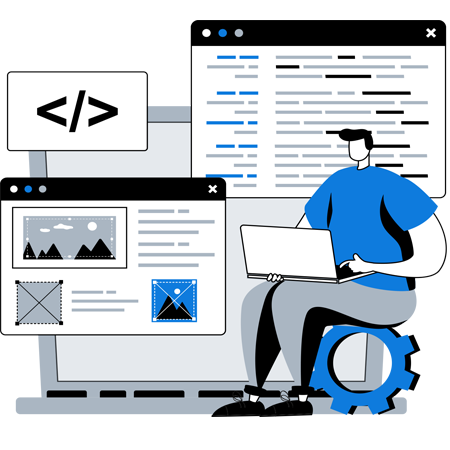 🎯 We make your work easier and more systematic by controlling the project in your head.
Today companies, users or public institutions use dynamic web software to be displayed on the digital platform. What makes web software different from other web design is that it can be fully developed and dynamically managed. Entrepreneurs or public institutions can use web software to realize their new projects that they will publish on the Internet. Web software service is an absolute
professional work. We recommend that you work with a professional web software company.
When you need smart, manageable web software, all you have to do is identify your needs and leave the rest to our professional web software team.
We have provided result-oriented solutions by creating dynamic web software for more than 650 individual or corporate companies by providing web software support under Bilişim name from all over Europe. As the Clickstark family, we are here to work towards your goals. For detailed information you can reach our customer service team and express your wishes and opinions.
Mobile compatible
We produce smart and fast web design that can adapt to new mobile technologies. By showing effective performance on all mobile devices, it delivers results without waiting.

Perfomance
All works developed by us are compatible with new technologies and show effective performance. We achieve optimal results by testing the studies on small virtual machines.

Security
Any software or website created is finalized by going through security phases after creation. We provide cloud servers with a secure environment against malicious attacks.

SEO effect
You can get positive search engine results by developing a professional website that is Google or similar search engine friendly and allows you to get more results.

Looks
Special, visual and fast interfaces are designed for corporations and designed to be easily used by all user groups. We ensure a high-quality appearance through the use of the latest technologies.

Additive
The websites or software created are fully open to development services. You can add additional functionality to your project by visiting the plugin section according to your company's needs.

Frequently Asked Questions









Expert support team
We are here to provide results that can meet the needs of our customers by producing useful products that can work solution-oriented and achieve results. You can reach our customer service team and get information about your project and express your opinions.